4. A Human Rights Issue!
By Zwischengeschlecht.org on Wednesday 31 August 2011, 19:40 - Permalink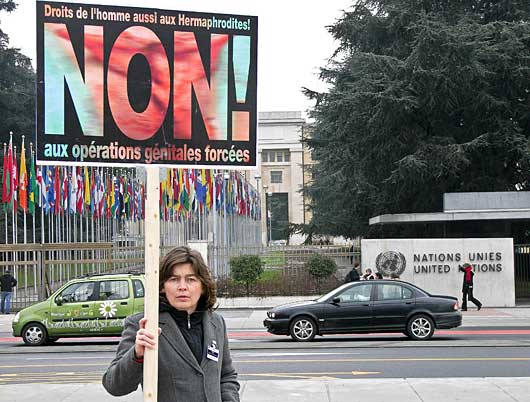 UNO Geneva, January 25, 2009 (Photo: Ärger)
 
What these non-consented surgeries actually do FEEL like for the "DSD patients", was never clinically tested. No regular follow-ups were done. Adult "patients" were simply left behind—traumatised by unwritten rules of silence and forced surgeries, deprived of sexual sensation and riddled with painful scars.
From the very beginning of their resistance to non-consented treatments, hermaphrodites described themselves as survivors and their plight as torture, rape and inhuman medical experiments. A recent German Study proved suicide rates of surviving hermaphrodites to be comparable to victims of torture or raped children.
Arguably, the continuing forced medical treatments of hermaphrodite children are one of the worst human rights violation perpetrated in the "developed countries" since the end of World War II.
Despite the often "ambiguous" looks of their private parts, hermaphrodites are usually perfectly healthy. From a strictly medical standpoint, no genital surgery is needed at all. There are some forms that do require medical treatment for health issues, like e.g. the salt-wasting forms of CAH, but these issues again do not concern their private parts.
Since the 1800s, a few doctors blessed with a working conscience have continuously criticized "early damaging surgeries" on hermaphrodites as motivated by "curiosity rather than surgical judgement" (Reis: Bodies in Doubt, p. 113), but remained sidelined by the less scrupulous of their peers.   
Only in 1993 hermaphrodites themselves began to organise. Aided by the advent of the world wide web, self-help and advocacy groups publicly demand the end of "unwanted surgery" on hermaphrodite children and eventually "human rights".
2004/05 San Francisco Human Rights Commission Hearing and Report
http://www.intersexinitiative.org/news/000119.html
http://www.isna.org/pressroom/sfhrc

2008/09 UN-CEDAW Shadow Report and 43rd Session Recommendations
http://intersex.shadowreport.org
"62. The Committee request the State party to enter into dialogue with non-governmental organizations of intersexual [...] people in order to better understand their claims and to take effective action to protect their human rights. [...] Follow-up to concluding observations: 67. The Committee requests the State party to provide, within two years, written information on the steps undertaken to implement the recommendations contained in paragraph [...] 62."
http://www2.ohchr.org/english/bodies/cedaw/docs/co/CEDAW-C-DEU-CO6.pdf
Thanks to Sally Gross of intersex.org.za, in 2006 South Africa was one of the very first states to write the existence of the intersexed into law.
However, till today Colombia is still the only nation that since 1999 at least to some extent regulates by law cosmetic genital surgery on hermaphrodite children.
>>> UN Committee on the Rights of the Child: "Harmful Practice" + "Violence"
Intersex Genital Mutilations • 17 Most Common Forms
Human Rights Violations Of Children With Variations Of Sex Anatomy
IGM – Historical Overview • What is Intersex? • How Common are IGMs?
>>> Download PDF (3.65 MB)     >>> Table of Contents
IGM on a Global Scale: 2015 Briefing for UN-CRC
• IGM: A Survivor's Perspective • Intersex Movement History
• What are IGM Practices? • What are Variations of Sex Anatomy?
• IGM and Human Rights • Conclusion: IGM as a Harmful Practice
>>> Download PDF (3.14 MB)     >>> Table of Contents
Zwischengeschlecht.org     Contact: info_at_zwischengeschlecht_dot_org

The human rights advocacy group Zwischengeschlecht.org demands the prohibition of cosmetic genital surgeries on children and "Human Rights for Hermaphrodites too!"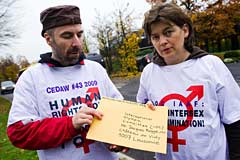 IOC Lausanne, 19.11.09  --> Open Letter
(Photo: © FABRICE COFFRINI/AFP/Getty)